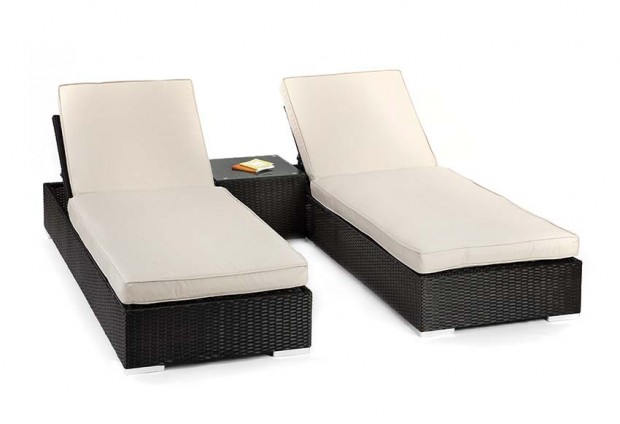 Marbella Sunlounger Set
This is the original Marbella Sun Lounger Set, featured (not advertised) in several national dailys including the Sunday Telegraph, Evening Standard and Daily Mail.
Our Marbella Sun Loungers are bigger, better, more comfortable and have more features than any similar priced item.

Let us explain:
BIGGER - Compare these 200cm long models to the standard 190cm and you'll start to feel more comfortable. But even more important is the width, with these 75cm deluxe loungers the standard 60cm may seem inadequate.

BETTER - For the reasons above and the reasons below.

MORE COMFORTABLE - Not only do our sunloungers offer the extra space for better quality sunbathing the 10cm cushions are more comfortable than standard 8cm cushions. The cushions sit on a comfortable and pliable base, there are no slats.

EXTRA FEATURES - The plastic feet keep the rattan off of the ground so stop wear and unravelling but most importantly these loungers open up at both ends so rather than turning the lounger around to follow the sun simply put the other end up and move the cushion, or if you can handle having your feet where your head should be for the last hour of the day don't even bother.

The Marbella sun lounger set is the best of it's kind available anywhere.

The synthetic rattan is hand woven around an aluminium frame and is completely weatherproof. The loungers have a solid frame with pre-assembled headrests, there is no assembly required. The set is available in the dark brown, mix brown or wood effect colour. Soft cushions in cream or grey.