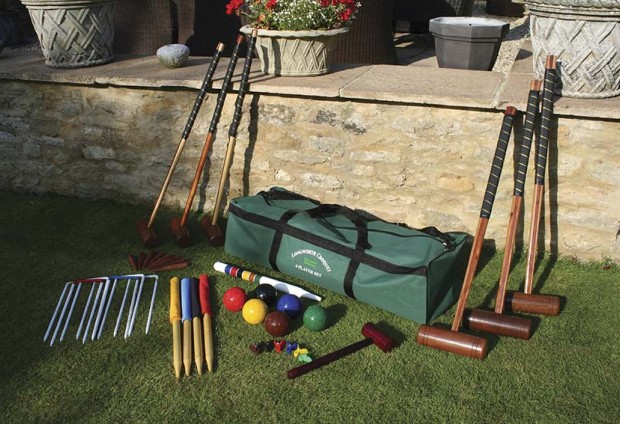 Longworth 6 Player Set
The Longworth Six Player Croquet set includes full adult sized hardwood mallets with oval spliced shafts, giving the
mallets strength and beauty with leather bound handles giving every player that assured feeling of quality without the
need to break the bank. We have also included traditional coloured second colour balls and clips making this a true
six player adult set.
There are no variations is the mallets sizes and the steel powder coated wickets are deigned to last for the life of the
set. full instructions have been included to insure that you can set up you croquet lawn with ease.
To make the set easy to take with you this wonderful six player adult sized croquet set comes complete within a
hard wearing, strong, useful and attractive zip close nylon carry bag that has extra room to include the full complemen
t of equipment.
The Longworth 6 player Croquet set includes -
6 x 12oz painted wooden balls
6 x Oval spliced wood shaft hard wood head, mallets with a
leather grip 37 1/2 inches in length
6 x Hoops (wickets) 4 white topped and one each of red and blue topped hoops, 43.7cm x 12.2m x11mm (D)
1 x Wooden painted winning post 54cm x 4cm (D)
4 x Corner flags - posts 61cm x 33cm (D) and flags 26cm x 31cm
8 x Wooden yard markers - 15.5cm x 2.8cm ((D)
1 x Wooden hoop mallet 41.5cm long
4 x Plastic croquet clips
1 x zip fastening nylon bag, with shoulder strap