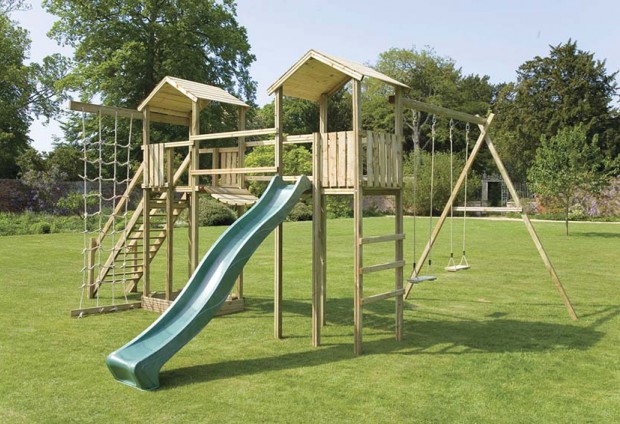 Monmouth Twin Towers
The Monmouth Twin Towers Climbing Frame is an imposing yet attractive frame that offers extraordinary play value and fantastic quality. The Monmouth has always offered a great range of adventurous fun for a wide age range of children. The Monmouth twin builds on this tradition by keeping great features such as the sturdy staircase, sandpit, swings, slide and commando net and adding an additional Monmouth tower and connecting both towers with a great fun clatter bridge.
Children love the adventure of running from one tower to the next and the 1.5m high wooden platforms are sturdy, strong and wide enough to allow friends to all play together.
The wooden pitched roofs protect youngsters from the elements and make the 1.5m high platform really feel like a playhouse in the sky.
The Platforms can be accessed by rope commando style net or the sturdy wooden staircase which has been designed with smaller less agile climbers in mind.
The base of the tower has been used to provide a 1.2m x 0.9m sandpit with seats that has plenty of room for friends to join in the digging fun.
The Monmouth twin comes with two full adjustable pine wood swings that can easily be changed for other swing accessories, so if you need a baby swing seat or a swing with a little something extra