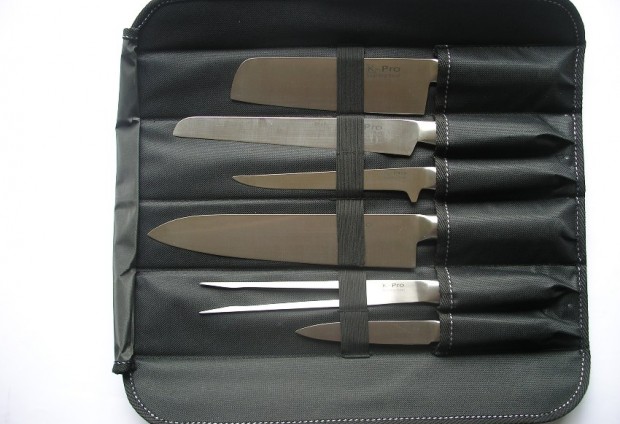 K- Pro Professional Carving Set
The K-Pro Professional Carving Set will get you prepared for Christmas and will give your kitchen the professional touch all throughout the year.
The set centres around an extremely heavy duty carving fork cut from 3mm thick Stainless Steel designed to handle the heaviest of birds, the largest of joints and the slipperiest of fish.
The fork is complemented by a traditional Carving Knife, an extra large Santoku, a Cleaver, a professional Boning & Filleting Knife and a Utilty Knife for all the small slicing and dicing you may need to do.
It all comes complete in a professional Oxford Roll Bag and this set that is simply a cut above the rest can be yours for a snip of the recommended retail price.
The set is made from heavy duty 18/0 Stainless Steel with hollow handles to create a set that can take on any job but is not too heavy to handle.
Carving Fork - 121g / 312mm;
Carving Knife - 131g / 334mm;
Cleaver - 139g / 295mm;
Santoku - 154g / 365mm;
Bone/Fillet Knife - 73g / 290mm;
Utility Knife - 58g / 225mm.